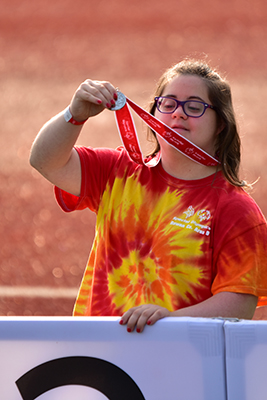 Paducah Big Brown Truck Pull, October 15th at Heartland Church
Of the 4 "Pull" events held in Kentucky each year, this is the ONLY one that directly supports a local delegation. The Paducah Big Brown Truck Pull directly benefits the McCracken County Special Olympics delegation. The money raised through this event provides funding for all McCracken County athletes to compete in basketball, bowling, softball, cheerleading, as well as track and field. McCracken County athletes compete year-round on the local, regional and state level, travelling to tournaments in Bowling Green, Richmond and Louisville.
Teams of fifteen must raise a minimum of $750 to participate and all proceeds help Special Olympics Kentucky provide year-round training and athletic competition to more than 11,000 athletes with intellectual disabilities across the state of Kentucky.
Contact Information
Jennifer McMahon
jmcmahon@soky.org
(502) 326-5002 x 203
Special Olympics Kentucky
Special Olympics is the world's largest program of sports training and competition for children and adults with intellectual disabilities. Participation is open to all individuals eight years of age or older. Training and competition in local, area, state, and national programs is offered year-round in 15 sports in Kentucky.
Participation in Special Olympics helps athletes improve physical fitness and increase confidence and self-esteem. Through Special Olympics, athletes learn valuable skills that they carry with them off the playing field and into their schools, jobs and communities.
In addition to sports, Special Olympics offers health screening programs through its Healthy Athletes initiatives and early childhood programming for young children with intellectual disabilities through the Young Athletes Program.
For more information about all SOKY programs and initiatives, visit SOKY.org.