We are currently experiencing a technical problem with logging into


Participant Centers.

Until this is fixed
Click Here


to login.
Saturday, October 14, 2023
UPS WorldPort
9:00 am Gates Open
10:00 am Opening Ceremonies
Teams of 20 sign up to raise or donate a minimum of $1,500 to enter. Teams compete to see who can pull a 155,000-pound UPS Boeing 757 cargo plane 12 feet in the fastest time.
All proceeds benefit over 11,300 Special Olympics Kentucky athletes across Kentucky.

Opening Ceremonies includes Special Olympics Athlete Leaders, Fundraising Awards Presentations

Family Fun Zone opens and the Plane Pull competition begins immediately following Opening Ceremonies.

Jet Tours, Games, Cookout Style Concessions!

Division Championships and Spirit Awards will be presented following the conclusion of the competition.
Quick Links

See Drop Down Menu for Additional Information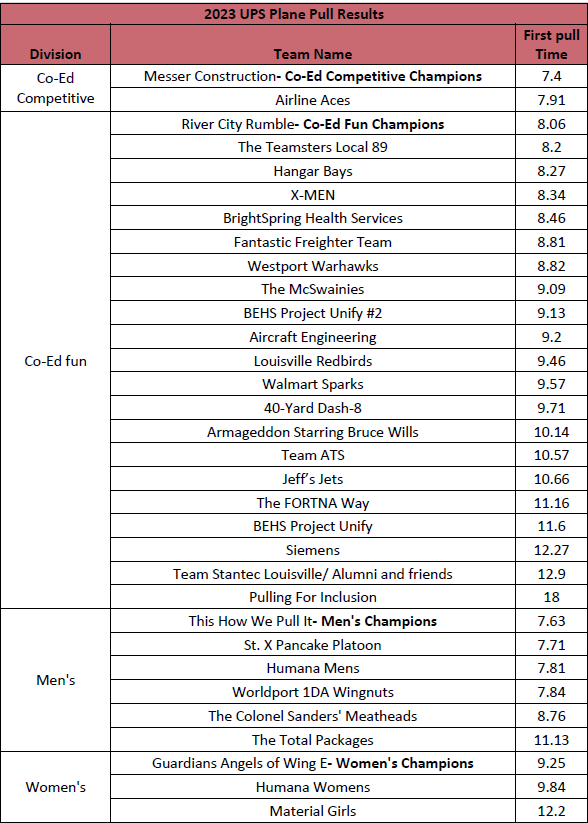 Contact Mallory at (502) 326-5002x200 or mjent@soky.org with any questions.
Donate:
Find a Participant or Team: