Paducah Truck Pull Schedule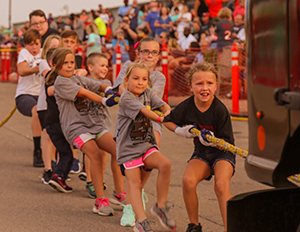 Saturday, October 24
Heartland Church
4777 Alben Barkley Dr
Paducah, KY 42001
In order to maintain the health and safety of everyone involved, the number of people onsite at any one time must be strictly limited. Please read the below carefully and help make sure this event can take place by following these directives.
11:30 AM Check In Opens

CHECK IN AND COMPETITION SCHEDULE PUBLISHED NO LATER THAN OCTOBER 21.
Teams must be registered in order to be on the schedule.
There will be a limited Opening Ceremonies and Awards presentation presented via Facebook from the event venue. These activities will either be pre-recorded or done without an audience.

Teams will check in and compete following a staggered schedule.
Masks will be required and are to be provided by participants.
Each team member must bring a personal pair of gloves for protection while pulling the plane.
Gardening or work gloves recommended. Latex, etc not allowed.
No sharing of gloves, no gloves will be provided onsite.
Team members will be placed 6 feet apart on the rope to ensure proper distancin
Teams will be directed immediately to the exit to make space for the next group.
It has not been determined yet if spectators will be able to attend with teams.
Additional activities and amenities have been removed from the event schedule to reduce the number of people onsite and remove opportunities to congregate.
No concessions for sale on site

Water will be available for participants and volunteers

No games or activities
No live music or entertainment