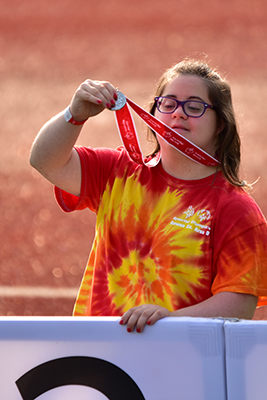 Special Olympics is the world's largest program of sports training and competition for children and adults with intellectual disabilities. Participation is open to all individuals eight years of age or older. Training and competition in local, area, state and national programs is offered year-round in 15 sports in Kentucky, serving nearly 11,300 individuals with intellectual disabilities.
Participation in Special Olympics helps athletes improve physical fitness and increase confidence and self-esteem. Through Special Olympics, athletes learn valuable skills that they then carry with them off the playing field and into their schools, jobs and communities.
In addition to sports, Special Olympics offers health screening programs through its Healthy Athletes initiatives and early childhood programming for young children with intellectual disabilities through the Young Athletes Program.